West Main Street and East Preston
Sanders County Motor Vehicle Building
Thompson Falls Public Library
Thompson Falls High School
Welcome to the Thompson Falls, Montana Picture Tour
Take a walk down Main Street (Highway 200) in Thompson Falls, Montana. Thompson Falls was named after David Thompson, the British explorer, geographer and fur trader. He established a fur trading post, the 'Saleesh House', in 1809, which was used sporadically until the 1820s. The town didn't really begin to grow until the early 1880's. The Railroad arrived in 1881. By 1883, Thompson Falls was used as a "jump off"' to the Murray Trail and the lucrative Couer D'Alene gold mines.
Coeur D'Alene Mountains
Peek over the buildings and you can see sections of the 1000-foot-long dam on the Clark Fork River.
You are looking at the Coeur D'Alene Mountains on the south bank of the Clark Fork River.
Beautification Days
According the to the 2010 Census there are 1,313 residents in Thompson Falls, Montana. You can see people take pride in maintaining the town. In fact, every April the town hosts "Beautification Days," to encourage residents to "spruce up, clean up, pick up" as well as assist those who are unable to do the work themselves. Way to go Thompson Falls!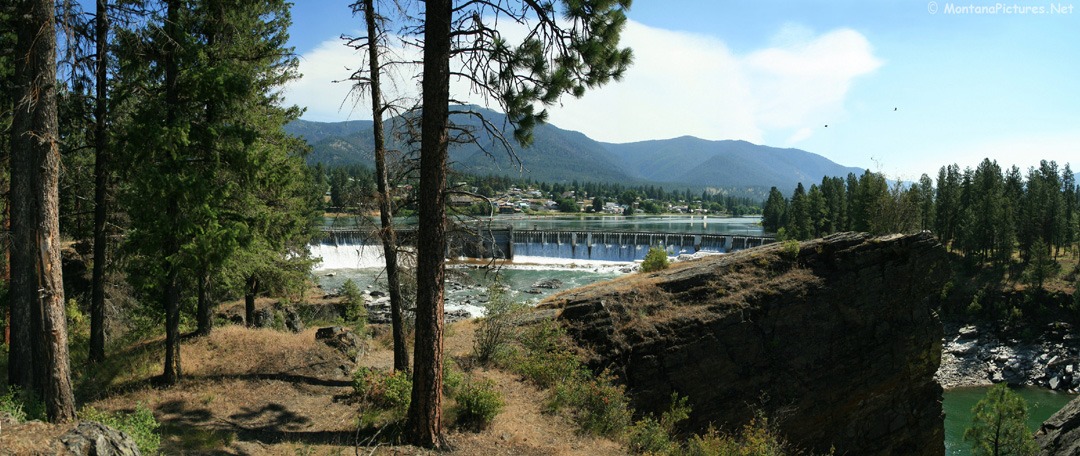 Powerhouse Loop Pedestrian Trail
Thompson Falls, Montana has some of the most incredible views of the Clark Fork River. To really appreciate the views take a  hour or more to walk along the Powerhouse Loop Pedestrian Trail
From the trail you will see views like the old railroad bridge pictured above.
Keep the Powerhouse Loop trail magnificent by following trail etiquette. "Pack it in , Pack it out." Respect other users as well as public and private property; cyclists should always give hikers the right of way.  Thank you!