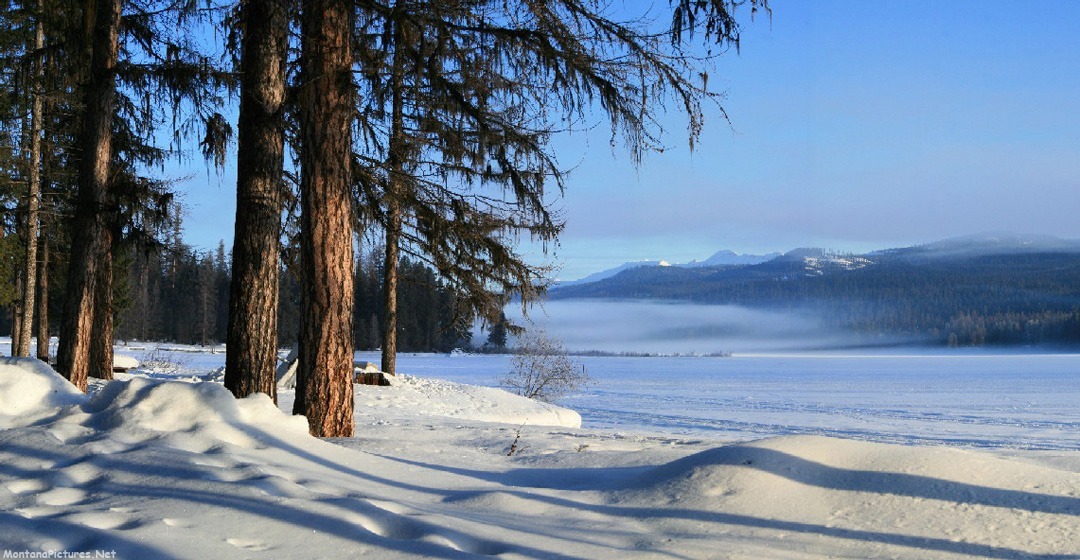 Welcome to the Seeley Lake, Montana Winter Picture Tour
During the early morning you might as well go for a short ski while you wait for the morning sun to "burn off" the fog covering the Swan Mountains and the town of Seeley Lake, Montana.
The Swan Mountains To The East
Sawmill On The South End Of Town
Last Chance Before You Leave Town
The Seeley-Swan High School
Giant Western Larch
Don't miss the large stand of giant Western Larch (Tamaracks) in a location called "Gerard Grove."  The 60-acre old growth grove of Western Larch, (Tamaracks) is breathtaking, many of the trees are 600 years or older.   The oldest tree is a 1,000-year old tamarack known locally as "Gus."
Coming from the "Eastside" of the Rockies all we ever see are "skinny" Lodgepole Pine (Pinus contorta), Whitebark Pine (Pinus albicaulis) and Ponderosa Pine (Pinus ponderosa). We're worried that standing in the middle of all those towering Tamaracks may be a "shock" to our system. :o)
Need to See More "Big Trees?"
On a side note, if you need a quick "shot" of "Big Trees" ride south of Butte, to visit the 300-year-old Ponderosa Pines at "Humbug Spires" northeast of Divide, Montana.  If you are near Missoula, visit the "Big Pine Pine" fishing access and campground on Fish Creek near Alberton, Montana.  There you will find the tallest known Ponderosa Pine in Montana. The bog pine is over six feet in diameter and nearly 200 feet tall.  If you are near Libby, Montana, visit the Ross Creek Cedar Grove south of Libby.