Welcome to the Cory Holmes Artist Havre Montana Picture Tour
The 21-mile "Bale Trail" between Windham, Utica and Hobson, Montana, is famous for the fifty or more hay sculptures constructed every September for the "What The Hay" Contest.    We are happy to report during the rest of the year you can find something unusual and uniquely Montanan on the fence posts along the "Bale Trail."
We're talking about the whimsical and quirky metal artwork of Cory Holmes from Havre, Montana.  For over twenty years, Cory Holmes has been bolting his artwork on a lone prairie fence post during the night and driving off.  The only payment he receives for his efforts  is the smiles and gratitude of travelers who discover his work while riding down a remote Montana back road.
Below are just some of the fantastic metal sculptures you can see on the "Bale Trail."   Thank you Cory Holmes for all your work over the years. Your sculptures help make Montana even better.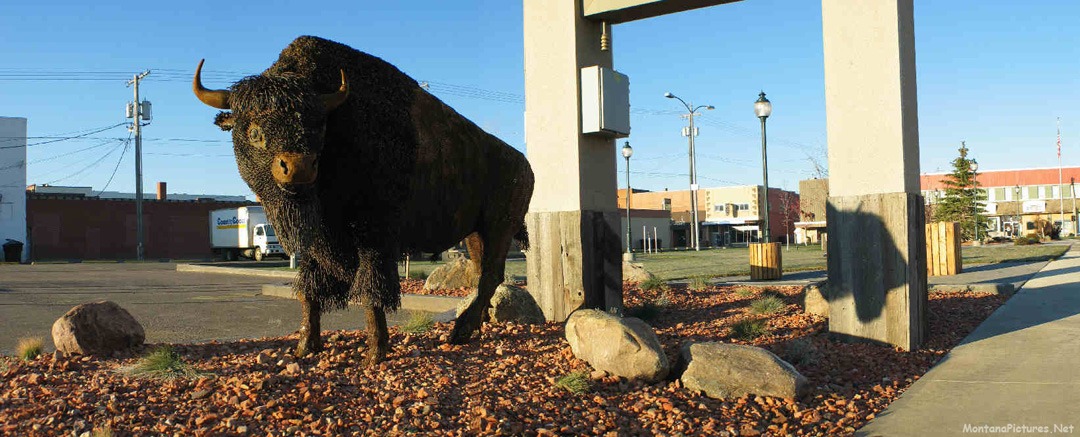 Artist Cory Holmes also does Artwork for commission
Give Cory Holmes some time, three miles of old telegraph wire and he can create a nine-foot-long, six-foot-tall, two thousand pound metal bison (pictured above).  Cory Holmes has "Fence Post Art" in about nineteen states and two provinces of Canada.  The bison installation can be found in ton square of downtown Havre, Montana.
Not everyone appreciates the sculptures, Holmes said. In an area near Big Sandy, Montana, German Lutherans on their way to church noticed sculptures erected on fence-posts one day, when they had not been there the day before. Convinced they were curses on the fields the fence posts surrounded, they took them down.