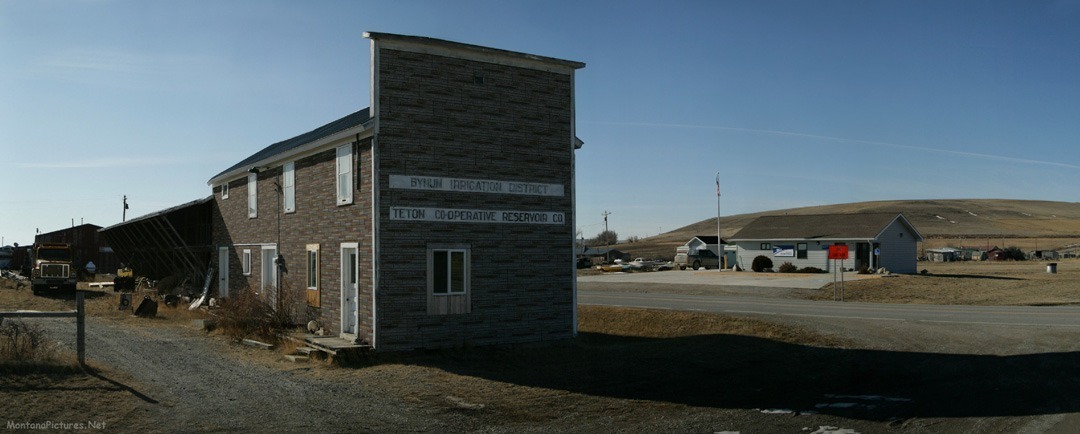 Welcome to the Bynum, Montana Picture Tour
Good things come in little packages and Bynum, Montana is no exception to the rule.
The unincorporated town is famous for the Two Medicine Dinosaur Center, the trout fishery at Bynum Reservoir and it's tradition of dancing. Take a look at the memorial plaque on the Bynum school house honoring teacher and bandleader Mr. Ira Perkins.  Perkins worked there for 53 consecutive school years, setting a national record for the
longest tenure at the same school. Perkins also created an outstanding band program, which he began in 1939 with a $10 budget. Everyone who attended Bynum learned to play a musical instrument, to sing in four-part harmony and to dance waltzes, polkas, two-steps and schottisches. Recently national attention was drawn to the Bynum Elementary School to report on the 21 students who embrace old-time dancing. Way to go Bynum!
What to see near Bynum, Montana
Most visitors will stop at the Trex Agate Shop  and the Two Medicine Dinosaur Center, snap a picture and go on their way.  To really see Bynum and the Rocky Mountain Front, you need to read works by Montana author Ivan Doig and Indiana author A.B. Guthrie Jr.
You gain a new appreciation of Bynum, Montana landmarks such as Birch Creek, the Rocky Mountain Front, hunting on the reservoirs and teaching in a one room school house after reading Doig's trilogy: English Creek, Dancing at the Rascal Fair and Ride With Me, Mariah Montana.